Check out the three common ways to pay med school tuition and how they can help fund your education.
After getting accepted, the next step is making a plan to pay your way through medical school. The cost of tuition and living can vary a lot. The average tuition for med school in Canada is approximately $16,798 per year. And if you're studying in Ontario, that jumps to a yearly average of $27,304.* On top of that, students need to pay for books and equipment, study aids, living expenses, healthcare — usually without being able to work summers or evenings. It'll also cost more to live in city rather than a small town.
Here are the most common ways to pay med school tuition and how they can help fund your education.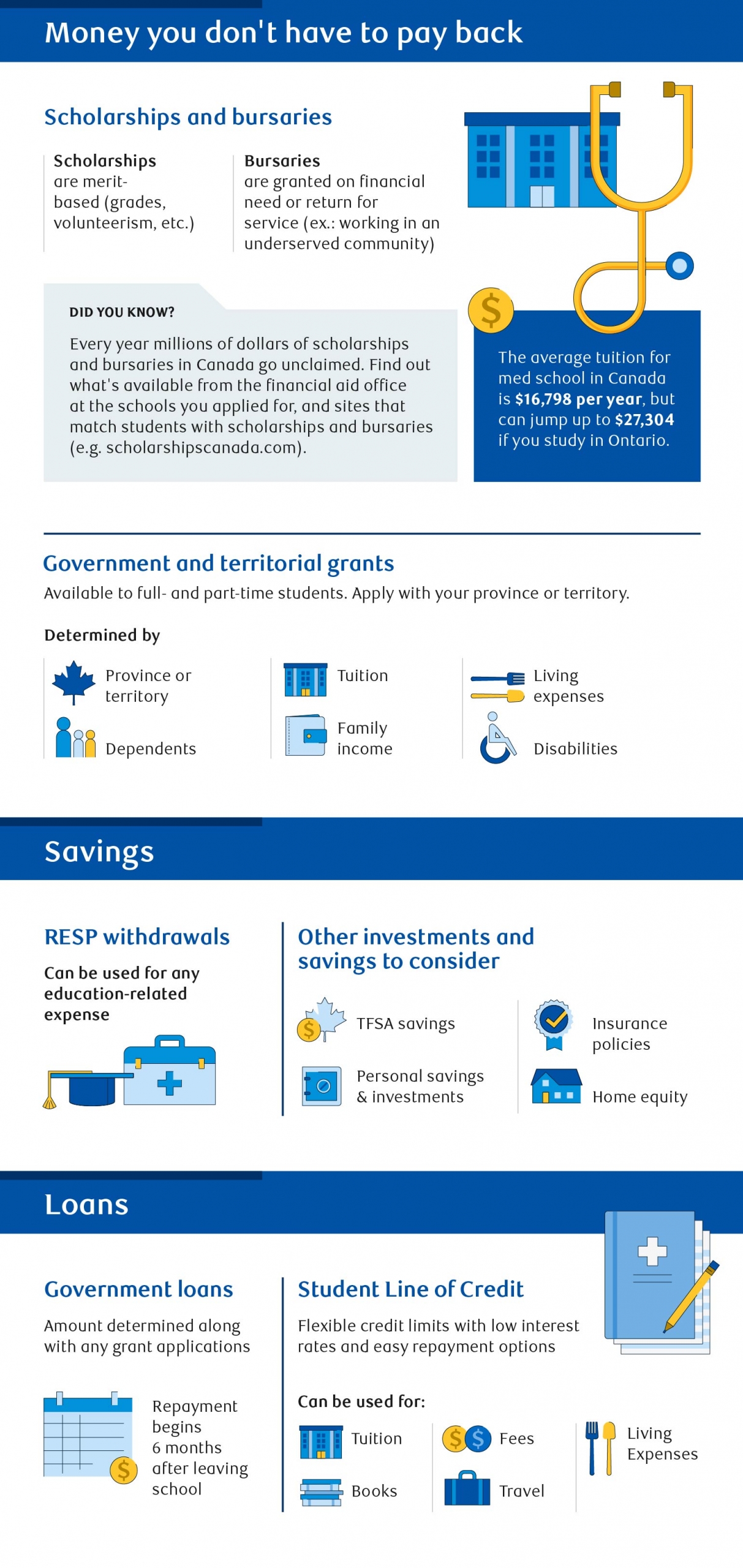 No matter how you build your tuition payment plan for medical school, starting with a full understanding of your options will make sure you start with a solid foundation.
Before you decide on how to fund your study, talk to one of our RBC Healthcare Specialists. With their experience in serving healthcare professionals, they will be able to provide you with tailored advice and support your unique financial needs.
*Average tuition fee for Canadian citizen / permanent residents. Association of Faculties of Medicine of Canada: Canadian Medical Education Statistics 2017.
This article is intended as general information only and is not to be relied upon as constituting legal, financial or other professional advice. A professional advisor should be consulted regarding your specific situation. Information presented is believed to be factual and up-to-date but we do not guarantee its accuracy and it should not be regarded as a complete analysis of the subjects discussed. All expressions of opinion reflect the judgment of the authors as of the date of publication and are subject to change. No endorsement of any third parties or their advice, opinions, information, products or services is expressly given or implied by Royal Bank of Canada or any of its affiliates.