Before the pandemic retailers were re-imagining ways to respond to customers' changing purchasing preferences and patterns. They've pivoted even more to meet customer needs in the wake of rolling lockdowns and shifting capacity. Here's how data can help owners navigate the new retail landscape.
It goes without saying retail has undergone a transformation, starting well before the pandemic. While the revolution started with online eCommerce, the industry saw shortened product trend cycles, increased customer experience expectations, and technological innovation that continue to challenge retailers, especially local small business owners.
"Canadians have stayed loyal to their local retailers because most responded to changing needs like installing curbside pickup," says Laura Davy, National Director, Retail and Healthcare. "Retailers realized how important it was to know their customer-base during lean times. As we start to turn the corner towards recovery, many retailers will need to find ways to stay competitive in order to attract new customers. "
This is where data comes in. There are several sources of data retailers can access to make informed business decisions.
Easily accessible is a retailer's proprietary data based on inventory and historical purchase transactions or even your customer database. This information can give you seasonal sales trends for your business, average cost per sale, and what are your most popular products.
Concepts such as store intelligence planning, which is an emerging school of thought in the retail community where equal importance is placed on understanding the physical store location as well as the customer. By taking a data-driven approach to understanding their retail locations and customers, business owners can make more informed decisions on how to tailor the omni-channel experience to their customers' specific needs or preferences.
Third-party, Location-based data, not just their existing customers can also help owners identify emerging retail trends and opportunities to create efficiencies across virtually every aspect of their business
Here are 5 ways you can use data to help optimize and grow your business:
1) Maximize your marketing dollars
Small business owners have a lot to do, and these days, Canadian retailers are dealing with solving product, inventory, staffing and merchandising challenges. As such, many are pulling back on marketing and customer communications because they don't have the bandwidth to do so. Davy feels this is the wrong thing to do right now.
"It's never been more important to keep the lines of communication open and target your customers— you need to let them know you're there, you're online, and how to access your service. We've also found throughout COVID-19 that a lot of people want to support small business. Why not help them do that?"
With the right data in hand, retailers can get an overview of what their customers look like — including their income, age and what they're buying — and use their marketing dollars accordingly. "If I know that my average demographic is people over 40, for example, and I know they spend a lot of time on Facebook, then I will advertise there and let them know about my website, my pick up process and my return policy," explains Davy. "Without that information, I might spread my money across channels my audience doesn't use, wasting marketing dollars on initiatives that won't reach my target market."
Investing in a CRM platform or application will allow you to leverage your customer data, enabling you to identify your most loyal customers, equipping you with the information you need to enhance their experience and interactions with your brand. For example, you could reach out proactively to your loyal customers, reward them with discounts and create a relationship with them that builds stickiness — so you're their first thought when they need to buy something new.
"We have seen companies use technology as a way of continuing communications with existing customers and creating new relationships," says Davy, "Technology is the enabler that has helped them pivot their business."
2) Identify store locations
Physical stores are expected to continue to play an important role in a consumer's buying journey — whether as a traditional store front, fulfillment centre or pick-up location — so they need to be in the right place to be in your customers' path.
"Choosing the wrong location can be the difference between your store doing well or not," says Davy. "I've seen cases where one weak location has impacted the whole business. Rent can be a huge fixed cost and is a decision you want to make sure you get right."
When you know where your customers live and how far they will travel to shop at your store, you can plan the locations that match their patterns.
3) Streamline your inventory
Having data that provides insight into consumer buying patterns can help you make informed decisions in terms of stocking the right product at the right time and channel. Tracking your seasonal trends and knowing shelf life per product is key to keeping inventory fresh and moving. Because consumers are expected to shop across both online and offline channels, inventory management can become tricky. You want enough stock to fulfill online orders, but also need sufficient in-store inventory for in-person shopping.
4) Optimize your operations
Customer traffic data can put you in a position to best support your customers while being purposeful with your staffing, hours, and other operations.
Say your retail location is very busy between the hours of 10:00am and 4:00pm, Monday to Wednesday, and is less buy on Thursdays and Fridays (but because you don't work at the store, you're not seeing this traffic first-hand). Armed with supporting data, you can staff your location appropriately and maximize operating hours — potentially closing at 4:00pm to offset the operating expense of staying open longer and perhaps running the store yourself on light days.
5) Re-imagine your business model
Over the last year, there have been many inspiring and exciting stories about businesses that have pivoted and changed their business model to align with the new needs of consumers. Wedding supply company Weddingstar — after seeing their sales take a nosedive as a result of COVID-19 — adapted their business model to mask making and leveraged technology to broaden their audience to a national scope.
Through the development of online stores and savvy, target marketing tactics, independent retailers have been able to expand their base from a local community to a national audience.
Bottom Line
To succeed as a business, it's vital to always be looking for ways to find value for people. By constantly innovating and using data, you can create better, faster and more seamless experiences.
Over the last 15 months, business owners across the country have creatively and skillfully adapted to changing trends, behaviours and policies. But it hasn't been easy. Now, you can get help with the decisions that will best move the needle for the business, setting you up for a future that's promising, fruitful, and well-informed.
Make informed decisions with real-time consumer data insights
RBC recognizes not all small business owners have the capacity or the technical expertise to generate, extract and analyze consumer data. RBC Insight Edge for Small Business was developed to help businesses with retail stores understand the full picture when it comes to their customers, products, and locations.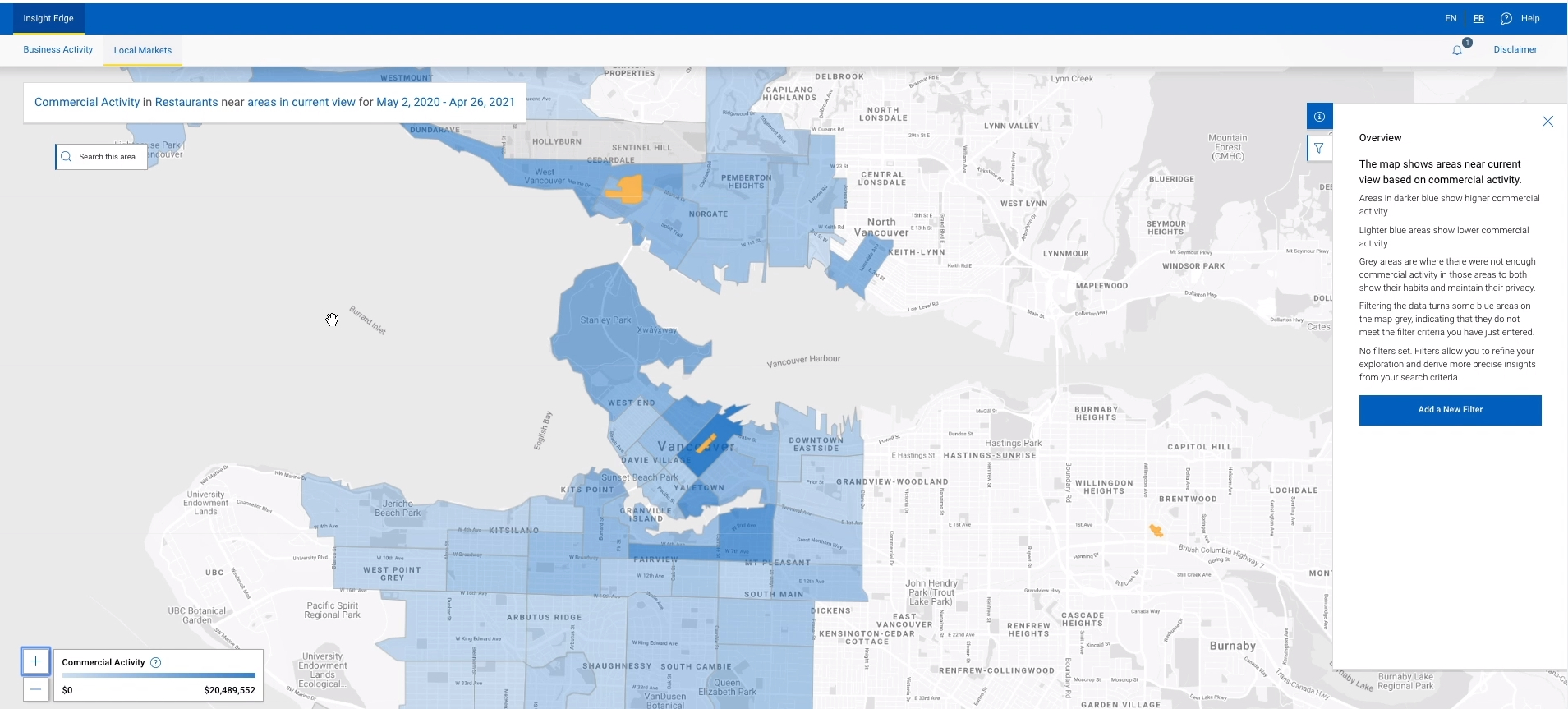 It's an easy-to-use digital dashboard that transforms credit and debit card transactions, along with demographic and location data, into real-time consumer insights for retail businesses across Canada. The tool can help you see who lives and shops in the area so you can tailor your products and services, stay on top of changing shopping patterns and get valuable information that can help you streamline operations or explore new locations.
To learn more call our 24/7 Business Helpline 1-888-788-8016
This article is intended as general information only and is not to be relied upon as constituting legal, financial or other professional advice. A professional advisor should be consulted regarding your specific situation. Information presented is believed to be factual and up-to-date but we do not guarantee its accuracy and it should not be regarded as a complete analysis of the subjects discussed. All expressions of opinion reflect the judgment of the authors as of the date of publication and are subject to change. No endorsement of any third parties or their advice, opinions, information, products or services is expressly given or implied by Royal Bank of Canada or any of its affiliates.