Half of all Americans don't have enough cash to their name to cover a $400 emergency. Nearly a third of them have a net worth that's less than $10,000. Their median income hasn't changed since 1999. And none of them were at the Milken Institute's Global Conference.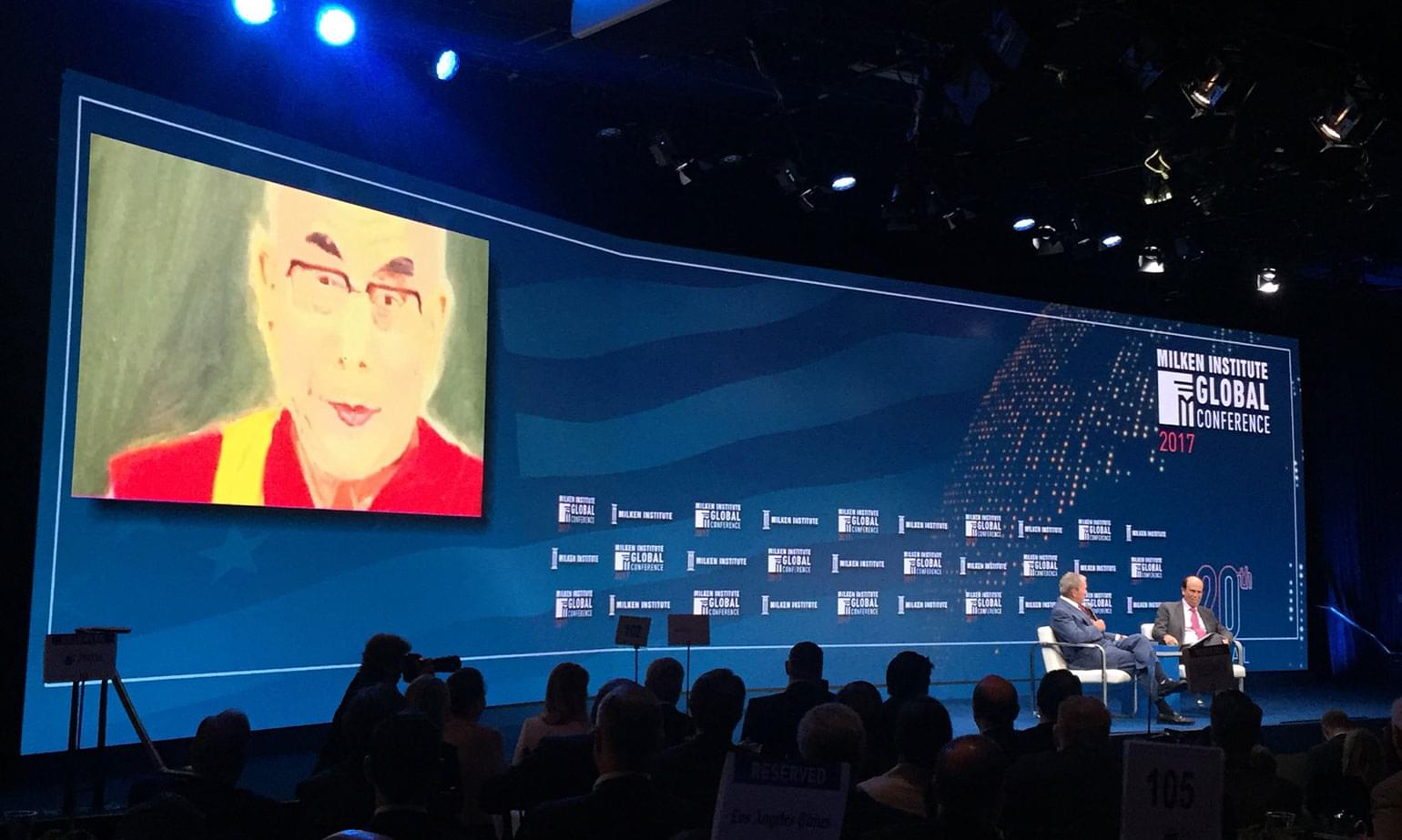 You wouldn't expect to find the masses inside the Beverly Hills Hilton, which MI Global takes over every May. But their concerns were everywhere, as 4,000 executives, entrepreneurs, asset managers, policy makers and government leaders gathered this week to consider a world in flux.
Here's what I took away:
1. Why the Market Likes Mnuchin
Steve Mnuchin was a Milken regular when he lived in LA and bought distressed banks for a living. Now that he's Treasury Secretary and working for a populist president, he's supposed to be an outsider. It didn't look that way. Mnuchin was received like a conquering hero at Milken, at least by the finance crowd who cheered his plan for growth. Not inclusive growth or sustainable growth, like you hear in Canada. In the U.S., it's just growth. To get to his promise of 3% growth within two years, Mnuchin laid out a plan for tax, regulatory and trade reform. He likes to call it "a jobs plan." On top of the corporate tax cuts already announced, Mnuchin wants to cut the top personal rate from 39% to 35%, eliminate all deductions (other than mortgage interest and charitable donations), and reduce the standard tax return to a single page. The Beverly Hills crowd liked it. And the House Republicans? "They're 80% in agreement." As for the elephant in the room—a border-adjustment tax to cover the cost of other cuts—Mnuchin was blunt. "We don't think it works in its current form." No matter. He believes the tax cuts will generate enough growth to pay for themselves.
2. Why the Economy Doesn't (Yet)
Markets are up double-digits since Election Day, and CEO confidence is at the highest level since 2004. No surprise, then, that the crowd waxed enthusiastic about Mnuchin's message. But it was anxious enthusiasm, in the wake of flat economic numbers.
"The market has priced in a lot of announcements. We now need to see action," said Mohamed El-Erien, the uber-investor who is chief economic adviser at Allianz. He noted that bond yields have dropped this spring, while economic prospects continue to look muted. And no one seems to be pricing in the risk of a geopolitical event—North Korea, anyone?—or a financial mishap. "Optimism is off the charts but geopolitics is a real concern," El-Erien said.
Nor is the market factoring in the slowness of Washington. Take infrastructure: it could take years, not quarters, to see a shovel hit the ground. But for now, there's lots of liquidity and few other places to put it to work.
3. 2017: Buy American, Hire American
Trump's "Buy American, Hire American" motto is having an effect. "Everyone now wants to build factories in America, and hire American workers," said Ross Perot, the Texas businessman who tried to scuttle NAFTA in 1992. "Cheap money, cheap energy is good for the world, and overall the world is relatively peaceful," he said, arguing that U.S. economic growth could hit 4% this decade.
The biggest constraint? Labour. Across the U.S., there are 3 million job vacancies. In Perot's home town of Dallas, there's a shortage of 19,000 construction workers. The man who ran for president to fight "the giant sucking sound" of Mexico is now the voice for a more open border. Yes, it really was Ross Perot who said, "We need to get our Mexican friends back."
4. 2018: Buy Mexican, Hire Mexican?
The Mexicans may not want to be called friends, at least for the moment. The mood toward America is so hostile that a protracted NAFTA dispute could lead to an anti-American populist winning next year's national election. "It is not a wise decision to take an open trade negotiation into any general election," said Kenneth Smith Ramos, Mexico's top trade envoy in Washington. He believes an "overarching agreement" on NAFTA must be in place by year-end, and thinks it's possible by adapting parts of the Trans-Pacific Partnership.
Seeing anything meaningful pass quickly through Washington would take a healthy imagination. So the U.S. Chamber of Commerce is counselling simple advice to Trump on NAFTA: "Do no harm." That means do no harm to the 14 million U.S. jobs that depend on North American trade—or the countless industries that will be lobbying to protect or enhance their interests. Mexico's biggest movie-chain owner, Alejandro Ramirez Magana, gave a sense of the harm that looms, both to Mexico and the U.S.: "Our biggest movies come from California, our popcorn comes from the Midwest, the cheese on our nachos comes from Wisconsin."
5. Trading Friends, Trump-Style
Commerce Secretary Wilbur Ross spent his time at Milken praising China and slamming Canada. China, he said, had been greatly cooperative on trade since the Mar-a-Lago summit between Trump and Xi Jinping. Canada, on the other hand, had become "nasty" in its approach to softwood lumber negotiations.
Another Trump adviser cautioned that Ross was playing to the White House, trying to restore ties with Steve Bannon after the two reportedly fell apart over Trump's attempt to kill NAFTA in late April. But there's no doubt the White House is furious over Canada's handling of the softwood lumber dispute, especially British Columbia's threat of a counter-measure against U.S. coal. Ross called out B.C. as "the source of more than half the problem."
6. Rise of the Platforms
Forget Trump and his political platform on Twitter. A more powerful force may be the other social channels and the economic platform they're building. For now, Facebook rules. But Greg Maffei, the CEO of Liberty Media, thinks the next content battle will be between Netflix and Amazon—and the prize will be data. More Americans have Amazon Prime than go to church once a month, he said. And they're an upscale market, willing and able to buy what Amazon recommends. He sees Alexa as "a real Trojan horse in the consumer space," because our voices—tone plus words—"will take data to a whole new level." Netflix could be a different platform altogether. On a typical Saturday night, a quarter of us glued to a screen are glued to Netflix. Maffei thinks the company will evolve into a platform, selling products and offering social features, because it can't resist. It has too much data on all of us. Facebook and Google will be there, too. Facebook has close to 2 billion users. And Google's YouTube has 1 billion people a day watching its channels. Google's Eric Schmidt said the most important factor in a video's success today—consumer or commercial—is the recommendation engine. Attention, brands. If you want to reach consumers, you have a new gatekeeper to please, and its name is algorithm.
7. Rise of the Cars
The car of the future is here, and further off than you think. Richard Wallace of the Centre for Automotive Research thinks we won't see a road full of self-driving cars any time soon. The companies now testing vehicles simply don't have enough data across different climates, geographies and population centres to make a bet. A test mile in Montana, he said, is not the same as a test mile in Miami. Regulatory changes are slower, too. And then there's the biggest innovation hurdle of all: human acceptance. "It might be 2040 before we see truly big change," Wallace said.
Kyle Vogt, the CEO of Cruise Automation, thinks test markets will emerge over the next five years but also doesn't expect to see self-driving cars in every city and town any time soon. "Expectations are ahead of reality. We're seeing a lot of interesting demonstrations. What we're not seeing is the enormous amount of work that's still required to take a proof of concept into a commercial mode."
Whenever the future car arrives, we can expect it to have more computing power than a space station. Peggy Johnson, the head of business development at Microsoft, said the software giant sees the car the way it once saw the desktop. As carmakers reprogram every nook and cranny, they'll need Microsoft, she hopes, to make the vehicle smarter, safer and hyper-connected. She thinks the expansion of 5G networks, around the end of the decade, will transform our vehicles into entertainment centres, supercomputers and rolling offices, all in one.
8. The New Data Economy
Schmidt believes artificial intelligence is "the most important thing to happen in computer science in 50 years." The combination of Moore's Law (computing power doubling every two years) and new lodes of data has afforded companies in every industry the chance to completely change their operations. He cited the case of Google data centres, which consume massive amounts of energy to stay cool. Even after some of its best engineers had tried to optimize that energy use, AI cut the data centres' energy use by a further 50%.
Pedro Domingos, the University of Washington professor who wrote The Master Algorithm, said the AI race may not be won by industry leaders. He's finding that the most successful players in machine learning—a branch of AI—are the ones applying it to dozens of very different challenges rather than a single problem. As with humans, it seems, machines may learn best through cross-disciplinary studies.
9. The New Skills Economy
Increasingly, humans will need to be generalists, leaving it to machines to be the specialists. We'll also need to widen our peripheral vision, rather than sharpening our focus. No matter how much machines learn, though, humans will be needed to spot the exogenous. "Our job as humans will be to be captain of the ship. We will have more ships and bigger ships," Domingos said.
We'll also need to work with learning machines, no matter what our job. "A third of all human work will be affected by AI," said John Chambers, the executive chairman of Cisco. Masayoshi Son, the Japanese billionaire, believes "the smart robot is going to replace many of the jobs that exist today, mostly blue collar and routine jobs of white collar."What will happen to humans? "We will have to think, create, interact, focus on feeling."
10. America's Social Crisis
Mike Milken says his conference is about "building more meaningful lives" —for a reason. A sixth of middle-aged men in America have dropped out of the workforce, and half of them are dependent on opioids and prescription medicines.
The decline of steady work, stable families, safe communities, even service clubs was documented in the 2000 bestseller Bowling Alone. Nearly two decades later, has the dismantling of America's social infrastructure driven us deeper into shell? Andrew Wilson, the CEO of Electronic Arts, said there's a reason 250 million people a day play video games, and it's not just for fun: "We are providing self-actualization."
Pervasive social isolation is leading to at least one unexpected shift. We're returning to sports stadiums in big numbers. The NBA just enjoyed its best year ever for attendance, with a 92% sell-out rate. Better seats, better food, better in-break entertainment and better pace of play are driving sales. NBA commissioner Adam Silver sees another curious factor: the massive improvement in home entertainment systems. Those giant flat screens that are a gamer's best friend are also helping the arena experience. Ironically, TV may be helping convince us to spend time and money to see sports live. The new arenas are both great marketing platforms, and production centres. Silver called them "giant TV studios," serving 90% of the population who will never attend a game – and convincing the other 10% to pay a king's ransom for a commoner's game.
11. Boards, Revisited
Agriculture isn't the only area to suffer from monoculture. The boards of corporate America still look as homogenous as a cotton field in Texas. Among Fortune 500 companies, only 25% of board seats—and 5% of chairs—are held by women. "Something has to change" said Denise Morrison, CEO of Campbell Soup."It's too slow."
Increasingly, diversity is considered an imperative for innovation, to ensure divergent views and lateral thinking are applied to corporations as they rely increasingly on machines for linear models. How to get there? N.V. "Tiger" Tyagarajan, the CEO of Genpact, argued that CEOs need to demand diversity, and it needs to be visible through metrics and connected to the bottom line. Shareholders can help, too. The California State Teachers' Retirement System now demands diversity plans from its major company holdings. Note: 70% of its members are women.
12. 43, Revisited
Milken opened with an anxious cheer for the Trump economic agenda. It closed with a veiled warning from a man who knows what it's like to be a reviled Republican President and win re-election.
George W. Bush, the 43rd President, earned an extended standing ovation, from a very bipartisan crowd, for his defence of a compassionate, conservative America.
Just days after Trump questioned Abraham Lincoln's prosecution of the Civil War, Bush trumpeted Lincoln's words—"all men are created equal"—as the moral foundation of America. He believes they should be the compass of American foreign policy, immigration, education and trade. As for Trump's suggestion that a deal with the South could have been prevented the Civil War, Bush was clear: "We'd look more like Europe than the United States."
On Mexico, he was unambiguous: "I was raised in Texas. We were Mexico. The subject didn't make me nervous. I always felt Latinos made Texas a stronger place."
On a border fence: "It's really hard to build fences in parts of Texas. And ranchers don't want federal government taking their land away from them"
On promoting democracy in the Middle East: "People say, 'how dare you say Muslims can self-govern.' I say that's what people used to say about Condi Rice's ancestors."
On Vladimir Putin: "He is a zero sum thinker."
And on the power of rhetoric: "When the President says something about someone, he better mean it. Especially if it's Vladimir Putin."
As the only President ever to run a marathon, Bush left Milken with a simple message: think and plan for the long run.
This article is intended as general information only and is not to be relied upon as constituting legal, financial or other professional advice. A professional advisor should be consulted regarding your specific situation. Information presented is believed to be factual and up-to-date but we do not guarantee its accuracy and it should not be regarded as a complete analysis of the subjects discussed. All expressions of opinion reflect the judgment of the authors as of the date of publication and are subject to change. No endorsement of any third parties or their advice, opinions, information, products or services is expressly given or implied by Royal Bank of Canada or any of its affiliates.