10 Money Books & Podcasts Perfect For Poolside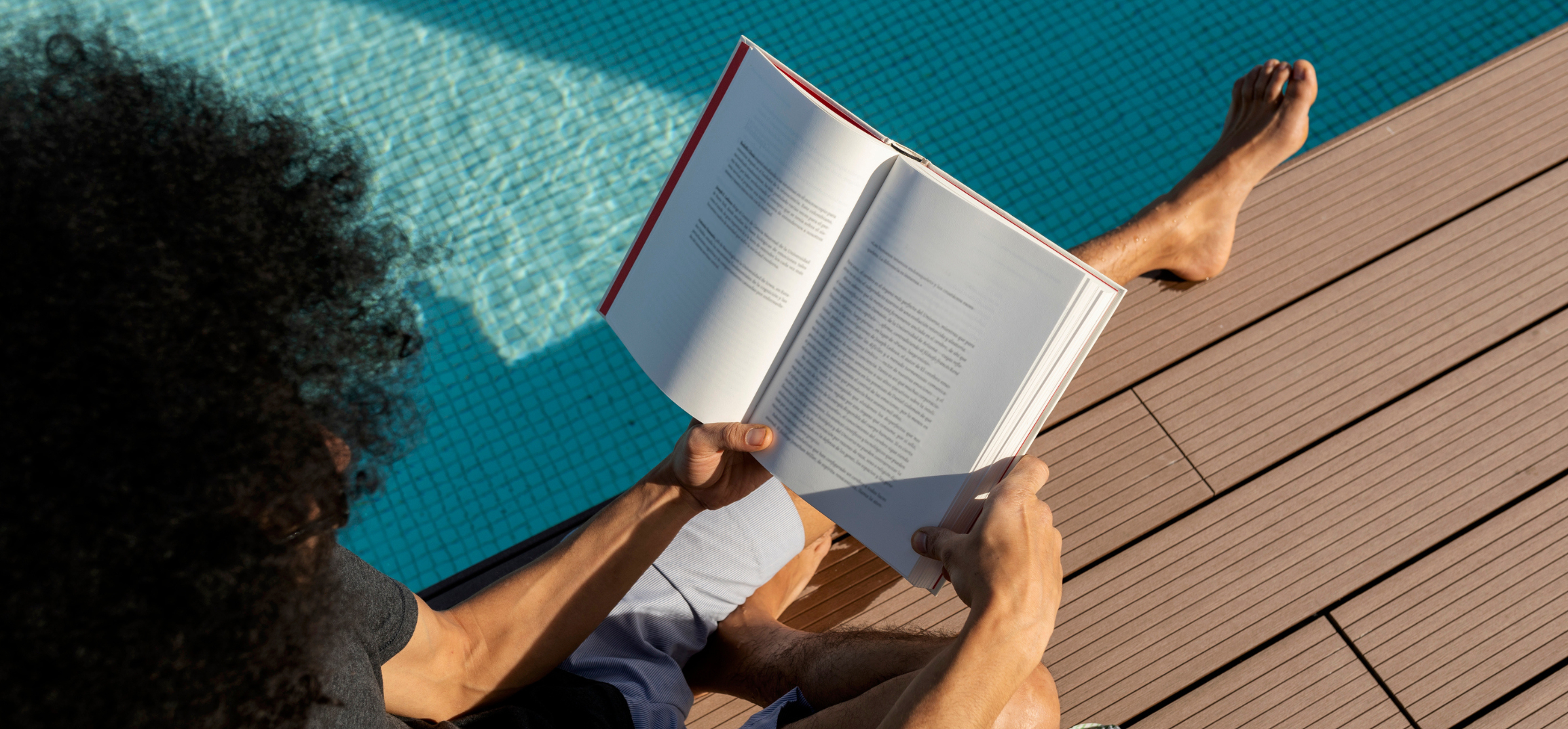 By the Inspired Investor teamJune 28, 2023
Summer is a perfect time to step back and take a breather, but that doesn't mean we have to stop learning. These money-related books and podcasts are a nice mix of entertaining and practical.
School's out for summer! Rather than putting the books away, we think it's time to dig them out. Grab a cold drink, pull up your favourite chair and enjoy these books that are both fun to read and offer some valuable insights about money and finances. We've also added a couple of podcasts to the mix – perfect for road trips, long walks or just relaxing with your eyes closed.
Money mindset and growth
Your Money or Your Life by Vicki Robin and Joe Dominguez (Updated 2018)
Dominguez was a successful Wall Street financier who retired at 31 and later teamed up with Robin to co-found The New Road Map Foundation, a non-profit dedicated to financial integrity. The book's goal is to help readers transform their relationship to money and achieve financial independence, or as the foundation says, "make a life, rather than just make a living."
You Are a Badass at Making Money: Master the Mindset of Wealth by Jen Sincero (2013)
Do you feel conflicted about wanting more money? Sincero tackles the mindsets that hold us back from making money and from enjoying it. The author approaches the topic in a funny way, with candid advice. The book contains exercises you can use to help change limiting thoughts and beliefs around money — perhaps shifting your own personal "money psychology."
Podcasts
Planet Money
Launched in 2008 during the financial crisis, Planet Money bills itself as a "meet me at the bar and tell me what's going on with the economy" evening with friends. The hosts find fun ways to dissect big economic topics. For example, in one episode, the team bought 100 barrels of crude oil and traced its lifecycle from the ground to a car's gas tank – all to better understand our complicated relationship with the fossil fuel. Note: This one's often great for listening with kids.
Disruptors
Okay, so this one's an RBC show (and not strictly about "money"), but we think it's pretty fascinating so it's on the list for summer. Moderated by John Stackhouse, Senior VP, RBC, the show brings together leading thinkers to talk in depth about major shifts in our economic realities. From AI to climate change to food, Disruptors talks to innovative leaders about reimagining Canada's economy.
Money memoirs
This Is The Year I Put My Financial Life In Order by John Schwartz (2018)
Schwartz is a New York Times journalist who shares his personal journey toward retirement readiness, including realizing that he and his wife weren't prepared and what they did about it. Part memoir and part how-to, he covers personal finance and investing at every life stage, sharing what they did wrong — and right — along the way.
Beer Money by Frances Stroh (2016)
A riveting memoir by a fifth-generation family member of the Stroh family — of Stroh Brewing Company fame — whose massive Detroit fortune fell apart in the late 80s. Stroh vividly describes what it was like growing up in a household with conflicting views on wealth — her mother foraged for second-hand clothing while her father spent lavishly on collectibles.
Cheerful Money: Me, My Family, and the Last Days of Wasp Splendor by Tad Friend (2009)
In this memoir, Friend, a staff writer for The New Yorker magazine, recounts his extended family's charmed life as part of the Wasp Establishment in America (think private clubs, Ivy League schools, stiff cocktails and blatant snobbery), while also documenting the gradual decline of that particular brand of elite amid economic and cultural shifts.
Investing know-how
How Warren Buffett and Charlie Munger Taught Me to Master My Mind, My Emotions, and My Money (With a Little Help from My Dad) by Danielle Town and Phil Town (2018)
The two Towns (father and daughter) turned their ongoing conversations about investing into their popular podcast series, InvestED. They've now followed up with a book, which provides a 12-month investing plan peppered with the story of Danielle's own financial journey — taken with her investor father — and using what she learned along the way to create the plan.
The Wealthy Barber: The Common Sense Guide To Successful Financial Planning (1995)
Some ideas never go out of style. This is Chilton's original release, which uses characters grappling with their finances to illustrate his ideas. Set in Sarnia, Ontario, the situations hit home for many Canadians and the overall guidance to avoid big spending and invest a portion of your earnings regularly still rings true. This one is also great for kids – readable and immediately actionable, even for younger kids with a modest allowance. In 2011, Chilton released The Wealthy Barber Returns, a follow-up to his best-seller.
Fiction with a money plot
Capital by John Lanchester (2012)
Set in 2007 after the collapse of a British bank, Capital follows the lives of the people in a fictional South London neighbourhood called Pepys Road. Thanks to sky-rocketing housing prices, the area is filled with affluent strivers and their servants whose lives change dramatically as the financial bull market comes to an end. (If the book grabs you, it was also the basis for a British mini-series starring Toby Jones.)
+ Disclaimers
Things our lawyers want you to know
This article is intended as general information only and is not to be relied upon as constituting legal, financial or other professional advice. A professional advisor should be consulted regarding your specific situation. Information presented is believed to be factual and up-to-date but we do not guarantee its accuracy and it should not be regarded as a complete analysis of the subjects discussed. All expressions of opinion reflect the judgment of the authors as of the date of publication and are subject to change. No endorsement of any third parties or their advice, opinions, information, products or services is expressly given or implied by Royal Bank of Canada or any of its affiliates.